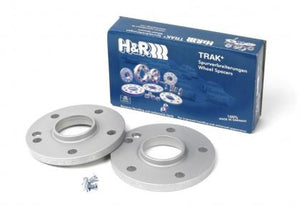 H&R Trak+ 15mm DR Wheel Spacer 66.5CB 14x1.5
If you've ever seen a sleek, European sedan with that oh-so-low street stance and a bulging wheel / tire combo that fits perfectly in the wheel wells, chances are that car was fitted with H&R TRAK+ Wheel Spacers. TRAK+ Wheel Spacers make your existing tires and wheels appear wider by moving the wheel out from the hub, providing both performance and appearance improvements. Whether you want improved handling, increased safety or simply desire your car to make a statement about your individual style, TRAK+ Wheel Spacers can help you accomplish your goal.
---
ATTENTION: While most of our parts are in stock and ready to ship, some parts may require shipping from Japan, which can result in a 4-8 week lead time.
Please contact us prior to placing your order, if you would like to confirm availability.
---
---